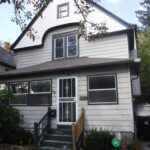 Scott was top notch, thorough and extremely detailed. He combed over every area of the home with attention to detail. Answered all of my questions and took the time to explain not only what I was asking, but took the time to explain in detail everything from the small to large concerns so I was able to understand. I can't say enough about his professionalism and dare I say, passion, for the job. I highly recommend Scott and Ohio Home Inspections and when I buy again, I will definitely be giving him a call
Scott is the ultimate professional. Prompt, courteous and very knowledgeable. I highly recommend using him for all your inspection needs!
Scott did a great job on the inspection. The report was very detailed with lots of photos to describe what we were looking at. He found issues in the house that we did not realize were there. He really helped us out knowing what we were buying. Would recommend Ohio Home Inspections!